COLUMNS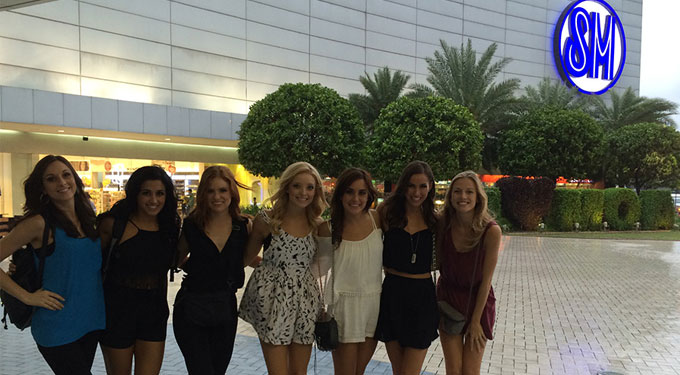 Laker Girls Blog about Manila experience
Wow! Time sure does fly when you're having an experience of a lifetime! It is now our fifth and final full day here in the gorgeous city of Manila.
Laker Girls Blog about Manila experience

Exclusive: A date with Fil-Am Miami Heat cheerdancer Jessica

Join the first ever NBA.com Philippines Cheerdance Contest!

SLIDESHOW: Pacemates spice up 2013 NBA 3X

Michael Jackson night!

Warrior Girl Deanna answers more Qs

More on Clippers Dancer Katrina!

No streaking allowed

More on Warrior Girl Patrisha!

More on Samantha of the Warrior Girls!

Meet Erika of the Luvabulls!

Clippers Dancer Katrina's Blog

Warrior Girl Patrisha's Blog

Warrior Girl Deanna's Blog

Warrior Girl Samantha's Blog

Roxanne's Blog: Fitness & Fun

Q&A with Clippers dancer Michelle

Roxanne's Blog

Q&A: Charlotte Lady Cats

Charlotte Lady Cats hit town, tour Manila
CHEERDANCERS PHOTO
Charlotte Lady Cats at 2012 NBA 3X Philippines
Erika (Chicago Luvabulls Dance)
HOMETOWN: Glendale Heights, IL
BIRTHDAY: October 13
FAVORITE TV SHOW: Revenge
LAST MOVIE WATCHED: Silver Linings Playbook
FAVORITE SONG: Hard to choose just one, but a classic is "I Wanna Dance with Somebody" by Whitney Houston
MOST COMFORTABLE IN: Workout Clothes and Gym Shoes
RANDOM FACT ABOUT ME: I'm really good at arcade basketball.
Read more about Erika here!